The Problem
PowerPoint Presenter View was designed for use in a meeting room. Connect your laptop that sits on the table to the projector or TV. Use Presenter View to see your notes while the audience just sees the slides on the large screen. Works great. Until we don't do presentations in meeting rooms.
When most professionals moved to working from home, a lot of them brought the corporate laptop home and started working. When presenting, there is no projector or meeting room. While you can attach a monitor to your laptop and use Presenter View like you did in the meeting room, that doesn't work for many people.
If you are working each day by setting your laptop on a dresser drawer that is pulled out and sitting on a chair squeezed between the bed and the dresser (real situation for someone I know), adding a second monitor isn't an option.
What can you do if you want to use Presenter View to see your notes and use the expert features that allow you to jump to any slide, zoom in on a slide, or draw on the slide (see the expert features in this article)?
The challenge with Presenter View and meeting platforms
Presenter View assumes you have two monitors or screens. The switch to many people only having one screen is a challenge that is not easy for Microsoft to fix. I know. I am a PowerPoint Most Valuable Professional and we've been speaking to the development team about this since the start of working from home. This is not an easy challenge to fix.
It is compounded by the way meeting platforms like Zoom, Teams, Webex, and Meet assume that you want to share either an entire screen or an app window.
What would be ideal is if Presenter View could run the Slide Show in a window and the Presenter View in a separate window and the operating system and all meeting platforms would recognize each window independently. Then you could share the Slide Show window in the meeting. This is now more reliable than it was in the past and is the recommended approach for Zoom, Teams, and Google Meet (see Approach 1 below).
Because one option won't be preferred by everyone, here are some other approaches that can work. Which one is best for you will depend on your operating system, meeting platform, laptop, and your comfort level with each approach.
Approach 1: Share the hidden Slide Show window
When you display your slides full screen in Slide Show mode you can actually switch to Presenter View and share the hidden Slide Show window in the Zoom meeting. This way your attendees see high-res slides while you see your notes and have all the expert features of Presenter View. You can watch how to do this in Zoom for Windows and for the Mac and in Google Meet for Windows and for the Mac. This approach works in Zoom, Teams, Google Meet and other platforms that allow sharing of an individual window. It does not work in Webex that shares all open windows of an application.
Approach 2: Use Presenter View preview
A few years ago PowerPoint introduced Presenter View Preview. This mode allows you to see Presenter View even if you only have one screen. It is a way to practice your presentation without having to connect to a projector. Using this mode can be helpful depending on the meeting platform you use.
If you use Zoom on Windows or a Mac, you can use an advanced sharing option that shares just a portion of your screen. This allows you to share the portion of your screen that contains the current slide. The audience just sees your slides while you see the whole Presenter View. This article and video show you how to do this in Windows and this is the article and video for a Mac. No other popular meeting platform offers the sharing of a portion of the screen.
The potential downside of sharing a portion of your screen is how clear and crisp the slides look to the audience. If you don't have a high-res screen on your laptop, the portion you share may be low resolution and look fuzzy to audience members. For example, a typical 1366 x 768 laptop screen could show the slides at 683 x 384 resolution if the slide you are sharing is one-quarter of the screen (which is not uncommon given the user interface and other panels in Presenter View).
Approach 3: Use the meeting platform PowerPoint player
Some of the meeting platforms offer to show a PowerPoint file using a built-in file display app. These apps typically show the slide full screen to the audience and often do not support all of the features of PowerPoint, so some of your slides may not appear the way you intended them to display. This full screen slide show does not show the presenter any notes, just the slides.
Microsoft has introduced Presenter View as the default for the Teams built-in PowerPoint sharing option. This shows the presenter the typical view of the current slide and notes while the audience only sees the slides. It supports most of the functionality of PowerPoint but does not include all of the expert Presenter View features.
Until most of the meeting platforms make big changes to their file display apps, this won't be a good option for many.
Approach 4a: Create a virtual second screen
When space is at a premium, one option you have is to create a "virtual" second screen using a video capture device. You can connect the HDMI output of your laptop to the input of the video capture device that is connected to your computer using a standard USB port. Your laptop thinks it has a second monitor attached and you can extend your desktop to this monitor like you could with a physical monitor. This allows you to use Presenter View as you normally would. You share the "virtual" second screen in the meeting so the attendees see your slides. This article and video show you how this is done.
Because the operating system thinks there is a second monitor, this method will work with all meeting platforms and works on both Windows and a Mac. These devices are not expensive and because it is standard hardware it should be safe to use with a corporate laptop since there is no software to install. This approach can be a good solution for almost anyone.
Approach 4b: Create a ghost second monitor
Similar to approach 3a, you can create a virtual second monitor using a Virtual Display Emulator Plug. This HDMI device acts as a second monitor and is referred to as a ghost monitor. You can now run Presenter View as you would with two screens, sharing the ghost monitor in the meeting. These articles show you how to use this plug to create a ghost second monitor: Zoom on Windows, Teams on Windows, Zoom on Mac, Teams on Mac. Because this is an HDMI device, it should work in corporate setups since there isn't even a driver that needs to be installed.
Approach 5: Wirelessly connect to a TV
You might be in a situation where the space you are working in is tight but there is a TV nearby. If this is the case, you may be able to connect that TV wirelessly as a second monitor. This second monitor can be used in the operating system like a wired second monitor. Presenter View can be run and you can share the TV with the meeting attendees because it will just have your slides on it. This does require a device to connect to the TV but does not require any software to be installed on your laptop.
If you have a Windows laptop, it must support the Miracast display technology, which many modern laptops support. You will need a Microsoft Wireless Display Adapter that connects to your TV. You can then connect your laptop to the TV and use the TV as a second monitor. Microsoft says the display should be no farther than 22 ft or 7 m away from the laptop so check that before you try this out. This video shows you how to connect a TV as a second monitor using this device.
If you have a Mac, you can use AirPlay to connect a TV that has an Apple TV device connected to it. Since AirPlay uses Wi-Fi connections, the TV could be in a different part of your house but I suggest you try to still be able to see the TV in case you need to check what the audience is seeing. This video shows how to connect a TV via AirPlay and use Presenter View.
TVs tend to be higher resolution than a regular monitor so you should consider reducing the resolution of the TV in the Windows or Mac operating system when using this approach. I suggest 1280 x 720 and no higher than 1920 x 1080. The higher the resolution, the more data needs to be sent through the meeting platform and it can cause delays for the audience in seeing your next slide.
Because the laptop has a second screen, this approach will work in all meeting platforms because you are sharing the second screen in the meeting.
Approach 6: Use Reading View and Notes PDF
It may be easier to just not use Presenter View and instead share your slides using Reading View and refer to your notes in a separate window. Reading View is a way to run the Slide Show in the PowerPoint window. It supports all the animation and transition features of PowerPoint so your slides appear as you expect them to appear.
You can print your speaking notes by printing the Notes pages to a PDF file. You can set up your screen with your PowerPoint window taking up most of the screen and your PDF document beside it. You share the PowerPoint window in the meeting so the attendees see your slides. You can scroll through your notes in the PDF document without the attendees seeing what you are looking at. This article explains how this is done in Zoom and this article explains it for Teams.
Like sharing a portion of your screen in Approach 2, you will want to make the PowerPoint window as large as possible if you have a lower resolution laptop screen. This will give the attendees a crisper view of the slides.
For Google Meet the process is similar to Zoom and Teams. Since Webex is a screen-based sharing platform, the attendees will see your slides in the PowerPoint window and the rest of your screen as grey. You will want to make the PowerPoint window as large as is comfortable so the slides appear as large as possible to the attendees.
Approach 7: Use Google Slides Presenter View
While PowerPoint Presenter View does not give you two windows, Google Slides Presenter View does. This web-based slide program opens another browser window to display your notes. This allows you to share the browser window with your slide show in the meeting so the attendees only see your slides while you see your slides and notes.
Google Slides does not support all PowerPoint features and warns you of this when it loads a PowerPoint file. The notice gives some indication of which features will not work but in my experience it is not a complete list so make sure you do a run through and pay attention to all fonts, animations, transitions, and other features you have used in your presentation.
This article and video show you how to use Google Slides Presenter View. Since it is browser based it works with both Windows and Macs.
This approach will work with most meeting platforms that allow you to share an app window, such as Zoom, Teams, and Google Meet. It does not work well in Webex. Webex shares all open windows of an app so the attendees will see both the Slide Show window and the Presenter View window. There is no way in Webex to share just a single window of an app.
Recommendation
I hope you find one of these approaches will work for you. Many people will use Approach 1 if it works for them. While it may be new to many, I suggest you consider buying a virtual display emulator plug and trying approach 4b or buying a video capture device and trying Approach 4a. It might be the most compact way to use the full PowerPoint Presenter View feature set.
Other meeting platforms
How does PowerPoint Presenter View work on other meeting platforms like GoToMeeting, Bluejeans, RingCentral, or Zoho Meeting? I haven't tested on every platform because I focus on the top four platforms listed in this article. Test the above approaches to see what works on your platform. If your platform is a screen-based platform that doesn't support sharing of a single application window, it will likely act more like Webex.
Complete Guides to PowerPoint Presenter View
I've written complete guides to using PowerPoint Presenter View in Teams and Zoom that cover the options for 1,2, and even 3 screens for both Windows and Mac. If you want to see what might be possible by adding another monitor, check out the Teams guide or the Zoom guide. I've also written articles on the options for sharing PowerPoint presentations in Webex and Google Meet.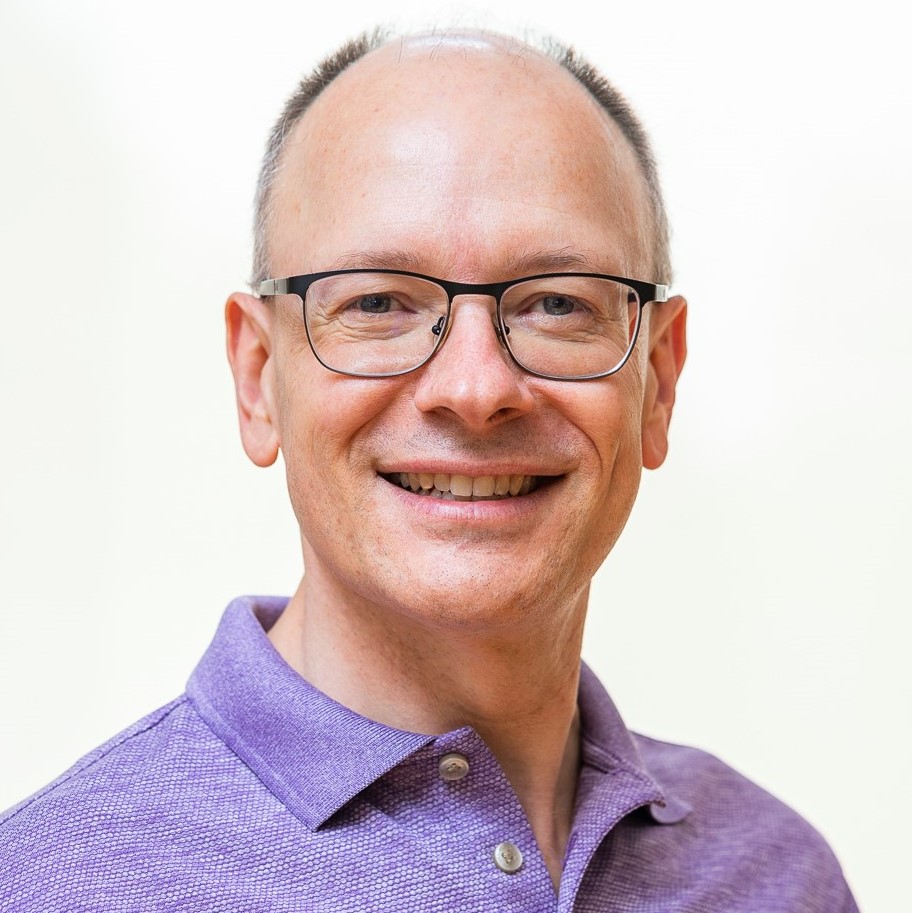 Dave Paradi has over twenty-two years of experience delivering customized training workshops to help business professionals improve their presentations. He has written ten books and over 600 articles on the topic of effective presentations and his ideas have appeared in publications around the world. His focus is on helping corporate professionals visually communicate the messages in their data so they don't overwhelm and confuse executives. Dave is one of fewer than ten people in North America recognized by Microsoft with the Most Valuable Professional Award for his contributions to the Excel, PowerPoint, and Teams communities. His articles and videos on virtual presenting have been viewed over 4.8 million times and liked over 17,000 times on YouTube.