Online courses
The ThinkOutsideTheSlide Online Course
Here's a quick summary of what you get in The ThinkOutsideTheSlide Online Course:
The audience insights so you can create presentations that appeal and not repel
The GPS approach to planning the content of your presentations and focusing your messages with the detailed guided instructions, videos, and a template so you have a repeatable approach to every presentation
The HVF approach that gives you a structured way to select the right visual for each message in your presentation
Step-by-step instructions and video tutorials on how to create dozens of visuals in PowerPoint and Excel
You will have the skills and techniques to create an effective visual PowerPoint presentation every time when you register for The ThinkOutsideTheSlide Online Course. Learn more and register here.
FinancialViz Message-based Dataviz Chooser
Get access to a library of 90 example visuals and a structured approach to selecting the right visual for financial results and analysis. This will allow you to move from spreadsheets on slides to effective visuals you can create in Excel and PowerPoint. Click here to learn more and get access.
Presentation-Ready Excel Charts That Are Easy to Update and Re-use
Free mini-course with practical tips to make your Excel charts clearer and easier to keep updated each month. Click to register for free!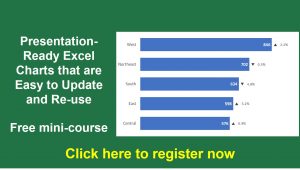 Excel Chart Skills 501: Quickly learn expert-level Excel techniques so you can create presentation-ready charts that are easy to update and re-use without programming, add-ins, or web tools Click here to register
After the Analysis: Communicating results from Excel in PowerPoint
Learn the three approaches to using Excel data in PowerPoint and the different methods in each approach. Step-by-step videos will have you using Excel data effectively in PowerPoint. Click here to learn more and register.
Alternatives to Bullet Point Text
Not all text needs to be in bullet points. In this course, see nine alternative ways to format text slides and watch the step-by-step videos so you can start creating better text slides. Click here to learn more and register.