Current Books by Dave Paradi
Use the GPS approach to plan your presentation that has a clear message and focused content.
This book contains a three step approach to help business professionals create effective presentation visuals.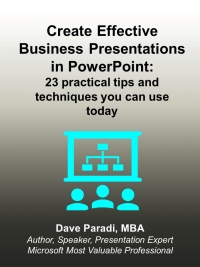 Create Effective Business Presentations in PowerPoint: 23 practical tips and techniques you can use today.
Trying to connect your computer or mobile device to the projector or screen and nothing displays on the screen? Don't know what to check or change to make it work? This checklist is here to help.
Need to create an outline for your PowerPoint presentation but don't know where to start? Use the template and video tutorial to create an effective presentation. You also get four completed examples for common presentations.