I recently delivered my first in-person training sessions in two-and-a-half years. When I was planning the delivery I chose to incorporate the advantages of virtual presentations by using a new setup with equipment I had not used before. In this article and video I will review my current setup and the decisions I made. Use my experience to consider how you might change your in-person and hybrid presentation setup.
Change the setup to incorporate content beyond slides
What drove my decision to change my setup from what I used before the pandemic was the desire to bring different types of content, like websites, spreadsheets, and PDFs into the presentation, not just slides. In a virtual presentation I share one screen and drag different content onto that screen as needed. This is much more engaging for the audience. I wanted to bring this experience to in-person and hybrid sessions.
I now use a second screen
In May 2022 I learned the challenges of incorporating different content on a large screen when I conducted a hybrid class reunion event (read more of the lessons I learned from that event). I tried to look behind at the large screen and control the small cursor on the large screen to change between app windows. It didn't work well. It would have been much easier if I had a second screen close to me that mirrored what was on the big screens.
I decided that I wanted to have two screens when presenting in person or in a hybrid setting. The screen would have to be portable and easy to connect with a typical room setup. I selected the Viewsonic VG1655 portable 15.6 inch display. It has both USB-C and HDMI inputs so it gives me more flexibility than portable screens that just have a single input type.
Output to two screens
In order to have my second screen and the room screen have the same content, I got an HDMI splitter. The one I chose is an OREI UHDS-102. It takes one HDMI output from my laptop and feeds it to two devices, the second screen and the room screen.
I extend my Windows desktop so the HDMI splitter becomes an extension of my laptop screen. I can place the extended display on either side of my laptop screen in Windows so it matches the physical setup on the desk.
This extended display is shown on both the second screen and the room screen. Presenter View in PowerPoint displays the slides on the screens connected to the splitter and the Presenter View window on the laptop screen. It also allows me to drag content from my laptop screen onto the second screen in front of me without having to look at the room screen behind me.
Power everything from one power charger
With the second screen and HDMI splitter I now had two additional devices that needed to be powered. I wanted to only use one power charger and decided that the UGREEN 100W GaN USB charger fit the bill. This charger plugs into one power outlet and has four outputs. I use the first USB-C output to power my laptop because it is the highest power output. The second USB-C output powers the second screen. The USB-A output powers the HDMI splitter. The splitter comes with a power brick and cord but I bought the BENSN DC 5V USB to barrel power cord that allows a standard 5V device to be powered from a standard USB-A charger (others such as Belker make a similar cord). There is one USB-C output not used that I could use to charge my phone or iPad if needed. By only carrying one charger, it reduces the volume of equipment I need to carry.
Slimline cords to reduce the size and weight of my bag
Not only are there more devices to power, but there are more cords now required. This setup requires a power cord for both the second screen and the HDMI splitter as well as HDMI cords between the laptop and splitter and the splitter and second screen. HDMI cords are usually thick so I found Ultra Thin HDMI cables that are super thin but can carry up to an 4K signal (way more than I will ever need).
The second screen has a mini-HDMI port so I also picked up a six-inch Cable Matters mini-HDMI to HDMI adapter so the thin HDMI cable could connect to the second screen. The cable that came with the screen was not very long and it had a knob in it which would take up extra room. I had tried an Amazon Basics mini-HDMI to HDMI cable but it was too thick.
I also got an Anker Powerline II USB-C to USB-C cord to power the second screen. The cord that came with the screen worked fine but has a right-angle plug on one end and I've run into issues with those in the past. It is also only 36 inches long and I wanted more flexibility to deal with different room setups.
I focused on reducing the size of everything I now needed to carry by selecting cables from manufacturers I trust and consistently get good reviews. My top brands for cables and adapters are Anker, UGREEN, Aukey, and Cable Matters.
Laptop screen setup
During the time of presenting virtually I discovered the many benefits of Presenter View in PowerPoint (this article and video share some of the expert features). I wanted to continue using Presenter View. The challenge was how to see my speaking notes now that I would be standing farther away from the screen instead of sitting in front of the screen at my desk.
Presenter View allows you to make the font used to display the speaking notes larger. I used this feature to make the text large enough to see when standing a typical six to ten feet away from the laptop. On Windows you can also make the Presenter View window smaller than full screen. I resize it so that it is full height but not quite full width, leaving about 10% of the right side of the screen open to be able to access other apps.
Here's what the screen looks like.
Switching between slides and other content
During my session I switch between my slides and other content such as websites and spreadsheets. To switch what is shown on the room screen I just drag the content window from my laptop to the second screen. During a session I will usually use the Windows clock app as a timer for an exercise, a website with the results of the exercise so we can discuss it, and a spreadsheet to demonstrate how a specific visual is constructed.
If the app window is visible in the open right portion of my laptop screen I can click on it and drag it over to the second screen. If it is not visible, I restore the window from the task bar and then drag it to the second screen. When I am done I drag it back to the laptop screen and minimize it. I then click on the Presenter View window and continue with my slides. I demonstrate this in the video below.
Video tour of setup in a room
The video tour below shows you this equipment setup in the room just before I delivered my second in-person session at the end of July.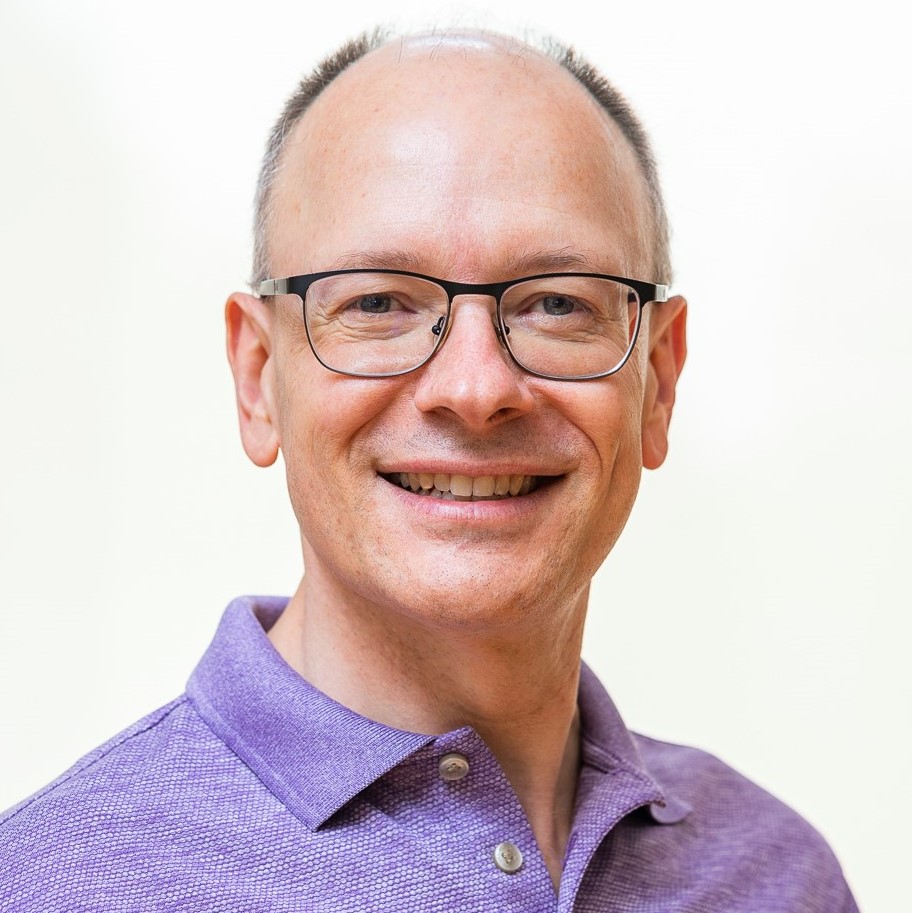 Dave Paradi has over twenty-two years of experience delivering customized training workshops to help business professionals improve their presentations. He has written ten books and over 600 articles on the topic of effective presentations and his ideas have appeared in publications around the world. His focus is on helping corporate professionals visually communicate the messages in their data so they don't overwhelm and confuse executives. Dave is one of fewer than ten people in North America recognized by Microsoft with the Most Valuable Professional Award for his contributions to the Excel, PowerPoint, and Teams communities. His articles and videos on virtual presenting have been viewed over 4.8 million times and liked over 17,000 times on YouTube.