One of the common complaints when using Microsoft Teams is that it does not allow you to set zoom level or other camera controls. People also say that it doesn't remember the settings you have used in a camera control app provided by the manufacturer.
If you are using the popular Logitech C920 webcam (and possibly other recent Logitech webcams like the Brio or StreamCam), there is a solution.
Logitech provides an app called Capture that allows you to set zoom and many other settings. You can also use it to capture a photo or video in the app with many advanced features as well. What many don't realize is that this app also provides a virtual webcam to Teams that uses all of the settings in the app.
Without Capture app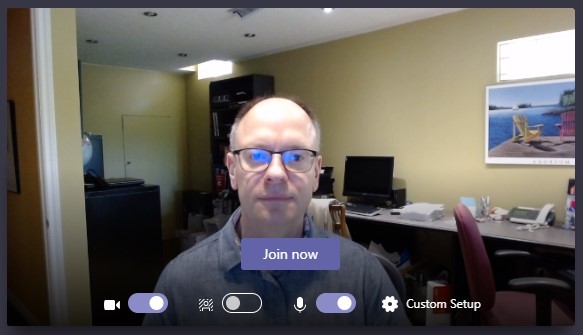 Using Capture app
Here are the steps to enable zoom and other camera controls in the Logitech C920 webcam when you are using it in Microsoft Teams.
Download and install the Logitech Capture app
Set the camera zoom and other settings in the Capture app
Use the Logitech Capture virtual camera in a Teams meeting
Download and install the Logitech Capture app
Set the camera zoom and other settings in the Capture app
Open the Capture app and make sure your webcam is selected as Source 1. Then use the app to set zoom level, move the focus of the camera, and more advanced features if you feel a need to. Most of the time all you need to set is the zoom level and location.
Use the Logitech Capture virtual camera in a Teams meeting
Make sure the Capture app is open and running. This is what provides Teams with a virtual webcam that uses the settings. In the Teams meeting Device settings (either before entering the meeting or once in the meeting), select the Logi Capture as the Camera in the list instead of the C920 webcam.
You will want to minimize the Capture app so that you don't see yourself in two places on the screen.
Now the video you provide to the Teams meeting will use the settings in the Capture app. Make sure you do not close the Capture app or the video in Teams will be interrupted.
If you want to see me demonstrate these steps, watch the video below.
Dave Paradi has over twenty years of experience delivering customized training workshops to help business professionals improve their presentations. He has written nine books and over 100 articles on the topic of effective presentations and his ideas have appeared in publications around the world. His focus is on helping corporate professionals visually communicate the messages in their data so they don't overwhelm and confuse executives. Dave is one of less than ten people in North America recognized by Microsoft with the Most Valuable Professional Award for his contributions to the Excel and PowerPoint communities. He regularly presents highly rated sessions at national and regional conferences of financial professionals.